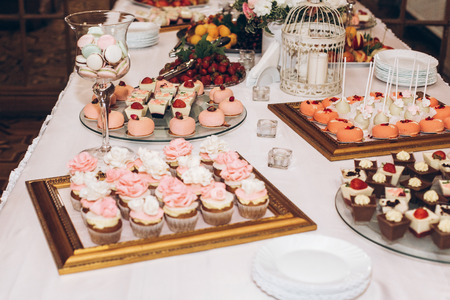 A bridal shower is a chance for several women to come together during the day to celebrate one woman's soon-to-be marriage. While planning a wedding can be stressful, one thing's for sure: it doesn't have to be so stressful if and when the bride has good helpers around her.
One way to relieve the stress for a bride is to find and pay for a caterer to handle all the food and drinks at wedding-related functions like the bridal shower. Perhaps the maid of honor, mother of the bride, or close friend of the bride can take it upon herself to make some calls, meet with various people, and come up with solid plans to make things happen.
The Benefits of a Catered Bridal Shower
Ideally, for a bridal shower, food and drinks are key, because they're a staple of the celebration, and people have high expectations. A catered bridal shower offers tasty food served in attractive ways. Caterers have years of experience, great attention to detail, and they purchase the best quality foods at decent prices, passing on the savings to you, so it's affordable.
What are some ideas for a catered bridal shower that'll be one to remember? How about mini champagne bottles for guests? Even better, these bottles can have the names of the bride and groom on them along with the wedding date. Or how about a drink designed with the bride in mind? Maybe she loves sun, fun and beaches, so ladies get piña coladas with little umbrellas.
As for dishes, they can reflect the season, so during the summer ladies can enjoy BBQ and watermelon. In the fall, there can be pumpkin and cinnamon-inspired foods available. If the bride has a favorite food, have the caterer prepare and serve that to the group. Why not?
Finally, a fun idea for dessert is cake in the shape of a wedding ring.
When you're planning a bridal shower in the Bensalem, PA, area, call R&R Caterers at 215-638-7376. R&R offers delicious food and impeccable services.