When you're in search of a professional caterer for your wedding in Bensalem, PA or the surrounding areas of Pennsylvania and New Jersey, look no further than our professional staff at R & R Caterers.
We have years of experience in the industry and take great pride in providing the highest quality off-premise wedding catering around.
Whether you're interested in sit down/plated service or buffet style dining at your wedding, we have a wide range of options available to meet all your needs.
We offer carving stations that can include top round of beef, roasted boneless breast of turkey, glazed whole smoked ham and more. We also have a variety of appetizer stations that include mashed potato bars, mac and cheese bars, pasta bars, fajita bars and more that will be sure to make your wedding the talk of the town!
Aside from these incredible options, we will be happy to provide your wedding with any hors d'oeuvres you desire for a cocktail hour, and we also have RAMP certified bartenders and bar items such as lemons, limes, soda, juices that you may need for your big day (please note, we do not supply alcohol).
If you're looking for us to handle desserts, we offer a wide range of items that includes petite pastries, mini cream puffs, eclairs and everything in between.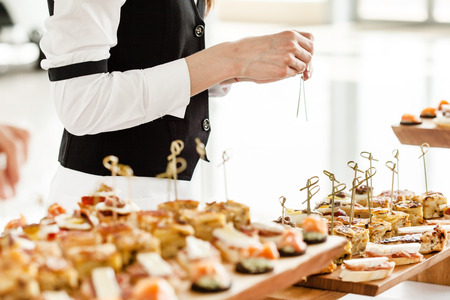 Trust Our Professional Wedding Caterers for Your Big Day!
At R & R Caterers, we take great pride in handling all your catering needs for your upcoming wedding and want you to enjoy your special day without having to worry about the food. We will make sure all your guests are completely full and satisfied with our delicious menu options.
We invite you to check out our menu and give us a call at 215-638-7376 to discuss your needs in further detail; we look forward to being a small part of your special day!