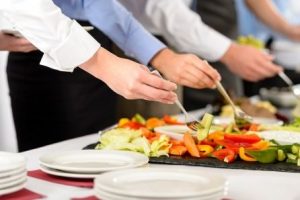 If you go to a big event where food is available, it's usually a "plated meal" or a "buffet." With plated meals, waiters and waitresses go from table to table delivering meals on plates, while buffets involve guests getting up, walking over to the buffet table(s), and scooping out their food onto plates… and then taking their meal back to their dining table.
Why should you consider utilizing the buffet style for your next event?
The Benefits of a Buffet Spread
For starters, plated meals are more of a traditional, old-fashioned way of doing things. They're not as popular as they used to be. We live in a world where buffet is now more commonplace, so to be "on trend," go with the buffet.
Next, buffet lines can efficiently serve 100 guests in about 30 minutes. They're great for when there are more than two entrée selections available (such as chicken, roast beef or lasagna). Furthermore, the buffet allows each person to decide what to pick and what to avoid, which is especially good when food allergies/dietary restrictions are present. Also, buffets allow for a greater variety of food choices than plated meals. Oftentimes, with buffets, people will choose "a little bit of this, a little bit of that." They like the ability to choose what to eat– going with their favorites while possibly trying some new things just to make it more interesting. There's the element of surprise– a nice surprise– when they first see the table of food and discover something "new and interesting" they'd like to try– and now's their chance!
R&R Caterers offers catering service for events in the Greater Philadelphia area, including Levittown and Langhorne, PA. R&R's standard or deluxe buffet menu has proved popular at area events, with a choice of two or three entrées, as well as vegetables, salads, and rolls. From grilled chicken to jumbo stuffed shells, R&R is able to provide a great variety of delicious, high quality foods that make an event memorable.
Please call R&R Caterers at 215-638-7376 to discuss your upcoming event. R&R does great buffets in the Greater Philadelphia area and would love to meet your event needs.