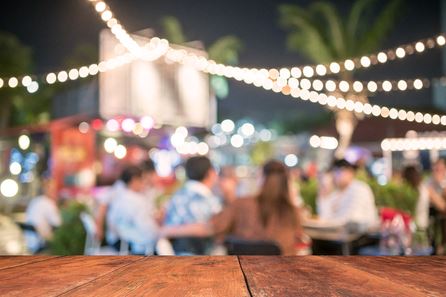 Hors d'oeuvres are the foods people nosh on at events where it's "not quite meal food." Usually, they're served on a platter by waiters and waitresses going around the room, offering them to people who are standing around, milling about, chatting with one another. Sometimes they're placed on a table and people come and get them as needed.
What are some of the best events to serve hors d'oeuvres at? These bite-size appetizers work well at wedding receptions, cocktail parties and corporate events. Indeed, anywhere you've got people gathered before a big meal, it makes sense to have hors d'oeuvres to "tide them over" 'til the main dish is served.
Some examples of hors d'oeuvres include beef meatballs, chicken skewers, stuffed mushrooms, shrimp cocktail, pot stickers, quiche tartlets, and spanakopita triangles.
Wedding Receptions
With wedding receptions, people typically arrive at the reception venue after attending a ceremony elsewhere. They're hungry, but dinner isn't being served for an hour or two, so hors d'oeuvres make sense. The bride and groom are off taking pictures while all the guests are hungrily waiting for them to arrive. Hors d'oeuvres are a quintessential part of many wedding receptions.
Cocktail Parties
"Cocktail parties" can really refer to any type of party where a group of people gather to have a good time. Perhaps it's Aunt Tilly's birthday at her farmhouse during the summer, or Joe and Mary's wedding anniversary party at a local banquet hall… then there are bridal showers, baby christenings and other reasons people get together en masse and want to eat. Just like restaurants serve appetizers, so should friends-and-family gatherings, in the form of hors d'oeuvres.
Corporate Events
Corporate events are usually put on by businesses who want to impress people, whether it's their own employees or clients or the community-at-large. Therefore, corporations are very serious about offering nothing but the best hors d'oeuvres for their events.
In the Bensalem, PA, area, serving Bucks County and Greater Philadelphia, R&R Caterers can bring hors d'oeuvres to your event! Please contact us at 215-638-7376 to discuss details. R&R Caterers typically handles events for 40 to 400 guests, bringing "delicious food and impeccable service" to the party.