Why do people hire caterers? Food catering helps make events successful! Caterers typically figure out a menu, prepare and cook foods, deliver/serve meals, and even clean up afterward! Strictly-speaking, most caterers are all about food and food only… However, sometimes caterers (and their partners) also bring with them essentials like glasses, china, silverware and linens… as well as chairs, tables, and/or decorations. These caterers offer "event planning services" as part of their overall package.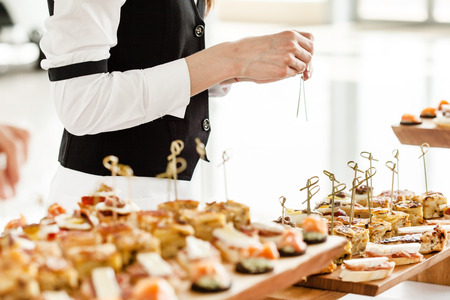 For the sake of this article, we'll stick to food catering rather than food/event services. Did you know there are "full-service caterers" as well as "drop off caterers?"
Full-Service Catering
With full-service catering, you can choose your menu. Typically, the caterer presents you with the menu choices they can make, and you choose which items you think your guests would enjoy. Choices include appetizers as well as "the main course." There's usually some leeway allowing you to customize the menu to fit the feel of your specific event.
A full-service caterer can prepare the food a couple of ways. Some choose to prepare it on location while others cook at their in-house kitchen and then deliver the food to your location where it gets warmed up. Either way, you're not asked to assist with food prep. At your venue, the caterer sets up and is responsible for either buffet or plated-style options. They'll bring help with them to serve the food to your guests. Full-service catering also involves their staffers cleaning up the food (and food areas) after people have eaten, so you don't have to!
Drop-Off Catering
Now what about "drop-off catering?" This one's a little different than full-service, because in this case the caterer does less work on your behalf. He or she sets up and displays food on buffet tables for you. Your guests eat. Then the caterer cleans up and breaks down the buffet.
Full-service is better than drop-off if you want the caterer to do more work for you– such as setting up tables, chairs, linens and other rented items. Full-service is also the one to pick if you want servers to serve plated meals to your guests… and if you want bartending services, too. Full-service catering also cleans up the space throughout and after the event– so it's wider in scope than drop-off, which just handles the buffet table area. Full-service caterers even handle trash disposal!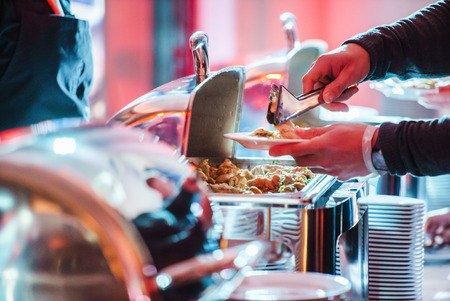 If you have family and friends who want to volunteer to "help out" with your event, then drop-off catering can work well. This is especially true if there aren't that many guests– say 15-20. If you prefer not to have any of your guests lift a finger to help with food, etc., then full-service catering is the better choice. This is especially true when you have, say, 100-200 guests in attendance. The more people you have expecting food and drinks, the more potentially chaotic the scene can get– and that's why you'd hire a full-service caterer to handle the stressful-but-doable service. Full-service caterers can help parties, wedding receptions and other big events "run like clockwork" since they have assembled a professional team that does this sort of thing for a living. Full-service staffers can include kitchen staff, front of house servers, bartenders, bussers, etc.
Type of Events for Full-Service Catering
Most wedding receptions go with full-service catering so they can have a well-choreographed event whereas all the bases are covered. This takes pressure off the bride and groom and their families.
How R&R Catering Can Help Your With Your Next Event
In Bensalem, PA, between Philly and Trenton, R&R Caterers can set you up with catering and buffet catering services. In essence, this is the "drop-off" option, whereas R&R provides you with enough food to serve between 40 and 600 people. R&R offers more than 50 entrees as well as breakfast dishes, BBQ options, desserts, and beverages. R&R's buffets allow everyone at your event to try as many different types of food as they want… and R&R provides friendly and helpful staff at the buffet table to help make your event successful.
Did you know R&R Caterers is willing to travel to any location within a specified Pennsylvania service area? Please call 215-638-7376 to find out if we service the location you have in mind; We can also suggest several viable, good locations worthy of holding your event! Check out our buffet items here.