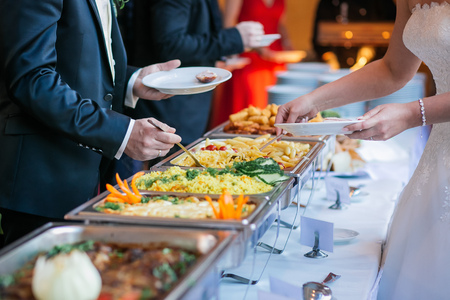 Getting married often involves throwing the biggest and most expensive party you'll ever have in your lifetime. It can be stressful and overwhelming. You and your spouse-to-be will make endless lists. There are many decisions to be made before the big day. And one of the main things couples deal with before the wedding/reception date is this: booking a caterer.
Anytime you invite myriad guests to a venue for a party, they're going to expect food and drinks. Most people don't have the kind of mom who can make meals for 180+ people and serve them– that's a task even too big for a supermom. When weddings happen, caterers get called. It's the caterer's job to assemble a staff that can prepare a large amount of food, serve it, and clean up afterward.
What are some things to consider when booking a caterer for your wedding reception?
Book Early
First, realize that certain times of the year are busier than others. The same can be said for days of the week. If you choose a Saturday in June for your wedding reception, realize that you might a) might not get your first choice or b) have to pay more than usual because caterers are in high demand at that time. In most cases, couples book months in advance. So, if you're getting married in two weeks and want to plan the proceedings that quickly, it might be hard to find an available caterer at "the last minute."
Your Non-Negotiables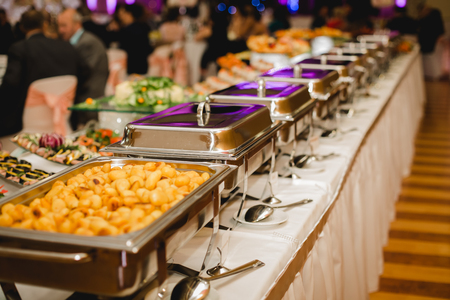 Before you call around to talk with potential caterers, you should make a list of your requirements as well as pertinent details regarding the reception. For instance, will certain ethnic foods be a "must" at your reception (and does the caterer know/understand those dishes?)… Will there be kids in attendance (and what will they like to eat– chicken nuggets and fries?)… Do you want a buffet line where guests get up and get their own meal(s), or do you want each table to be served by a waiter or waitress? Is it going to be an alcohol-free event or not? The more you know what you want, the better prepared you'll be to discuss plans with potential caterers.
Venue Effects
Next, consider your venue. Where do you plan to have this party? Is it indoors or outdoors? Does it have a kitchen on-site or not? Is there plenty of room for people and "stuff," to accommodate the number of people you think will attend? Caterers will want to know how much they're responsible for, versus what the venue has/offers. For instance, does the venue provide plates and silverware? Does it offer chairs and tables? Does the caterer need to bring/hang decorations or does the venue take care of those?
Budgeting Options
How about budgeting? A wedding reception is going to cost money. Yes, it can be done affordably, but the reality is this is one of life's bigger expenses. The it depends on the amount/level of service you want, the number of hours involved, the amount of servers you'll utilize, the quality and quantity of food, etc. Caterers can sometimes be flexible with their prices. In most cases, couples work with a caterer to determine what they can afford in order to be satisfied — and to make sure guests will enjoy themselves.
Food Quality
Couples should try the food before they hire the caterer "for sure." It's not unusual for couples to carve out time from their busy schedules to go somewhere and sample what potential caterers offer… this gives them a good sense of whether or not they'd like them to cater their big day! Schedule one or more tasting sessions.
Reviews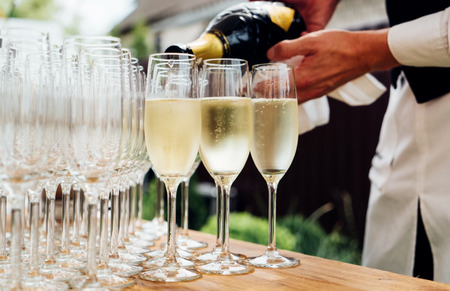 Also, you'll want to ask around and see what others have said about the caterers you're interested in. You can check online for reviews and comments.
Questions to Ask
What's the first thing you should ask a caterer? "Is my wedding date available in your calendar?" If they say yes, great. If they say no, move on to someone else.
Once you establish that a caterer could conceivably be available for your wedding date, the next question to ask is, "How many weddings will you cater that day?" Some couples get nervous if they hear, "Well, I've got two other ones that day." It depends on what you feel comfortable with– if you fear they won't put the necessary amount of time into yours (or "they could be late") then move on to someone else.
As for background information, couples should ask how many wedding receptions the caterer does each year. Have they done any at the venue being considered? Are they licensed with health permits and liability insurance? Are on-site permits needed? Who will be in charge at the event?
These days, many couples want to know where their wedding reception food comes from– is it sourced locally? Is it organic? Are sustainably farmed ingredients used? They might also have special needs to be met, such as "a gluten free section."
Planning a wedding and its reception involves "a million little details." Caterers not only provide and serve food/drinks, but they also help take some stress off the bride and groom as they attend to many, many details.
If you're getting married in or near Bensalem, PA, definitely schedule an appointment with R&R Caterers to discuss your plans. R&R caters weddings and would love to cater yours; please call 215-638-7376 today.